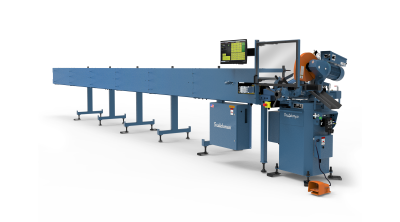 Scotchman Industries proudly announces a NEW auto loading circular cold saw to their existing lineup of metal sawing solutions. The new CPO 350 Auto Loader from Scotchman is a fully automatic sawing system guaranteed to save time, reduce scrap and eliminate costly mistakes.
We've taken our semi-automatic CPO 350 PKPD saw and added an auto loading system creating a fully automatic sawing system which can cut multiple lengths of tube (max 3" dia.). This saw comes standard with a Windows® based touch screen control, 5hp variable rpm speed motor, 315mm diameter blade, and the ability to run unlimited cut lists from 1/2" to 23' lengths.
Run a complete cut list or run of cut lists at 90° on an automatic cycle or switch to operate the saw in a semi-automatic cycle to miter cut. Quick set-up, automatic part length change, and fast reloading of material adds efficiency; plus, accurate cut lengths and is always within +/- 0.002 per dia. inch in squareness. Proudly Made in the USA.
Fully Automatic Cycle OR Semi-Automatic Operation
Pneumatic Power Down Feed and Electric Controls
Adjustable Stroke Control
Adjustable Feed Rate (Blade & Material)
Air Operated Material Vise Clamp
Clamping on Both Sides of the Blade
Fixed Rear Vise
Double Reduction, Hardened Bronze Gears
Chip Drawer
Emergency Stop Button
Mist Coolant System
Material Feed Direction can be Either: R to L OR L to R (must specify)
Miter in One Direction Only (manually)
Semi-auto Operation is Standard for Cutting Miters
Automatic Loading & Trim Cut of Each New Bar
Piece Counter
Touch Screen Controls Actuate the Complete Cycle
Windows Base Software (includes profile screen)
Two-year Warranty on Parts (CPO Saw)
One-year Warranty on Parts (AutoLoader)
Made in USA
Length Tolerance
±0.015 repeatability
Squareness Tolerance
±0.002 per diameter inch
Round Solid
Square Solid
Round Tubing
Square Tubing
90°
1-3/4"
1-1/2"
3"
3"
45°
1-3/4"
1-1/2"
3"
2-5/8"
Minimum Cut Length
1/2"
Maximum Cut Length
23'
Motor HP Ferrous Models
5 HP
Motor HP Non-Ferrous Models
5 HP
Power Supply
230/460-3ph (must specify voltage)
Air Pressure
90 lbs. minimum
Maximum Saw Blade
350mm
Arbor Bore Size
40mm
Pin Spacing
4/12/64
12' Supply Table w/ Saw Dimensions
(L)220-1/8" (W)48" (H)57"


Shipping Weight: 1874 lbs.(850kg)

24' Supply Table w/Saw Dimensions

(L)362" (W)48" (H)57"


Shipping Weight: 2784 lbs.(1263kg)

Proud American Manufacturer
Est. 1967