Scotchman Industries is proud to introduce the GAA-500-90, Automatic Upcut Circular Cold Saw, the newest addition to our non-ferrous saw line. The GAA-500-90 is a large capacity upcut automatic saw for cutting non-ferrous materials at 90° up to 6" square and round. The saw uses a shuttle feed design with an adjustable vertical and horizontal clamp system to fit almost any profile. Standard features include a 7.5 hp motor that delivers a cutting speed of 3,000 rpm, pneumatic mist coolant system, and a base designed with 2 chip extraction ports. Cut lengths are set by moving the hard stop that is connected to a ball screw and hand crank. The rotary dial allows for fast and easy length adjustments and part lengths are easily held to the length tolerance of +/- .006" per index. The GAA-500-90 is available in 230 volt and 460 volt configurations and is backed by Scotchman Industries' Best-in-the-Business, 2-year warranty.
Automatic Cycle
Semi-automatic or Automatic Operation
Automatic Feeder, 20 inches x 2 Strokes (20" + 20" Max.) Double Advance
Powered Hood Lift
Emergency Stop
Adjustable Cutting & Feeding Speeds
Adjustable Length Selector from .200 to 20"
Three Horizontal Pneumatic Clamps
Three Vertical Pneumatic Clamps
Miter Capability 90°
Pneumatic Lubrication System with Spray
One Gallon Coolant
Coolant Tank with Mist Lubrication
Mist Coolant Pump
One 20" (500 mm) Diameter Carbide Blade
One Blade Wrench
Air Hose
Base Designed as a Chip Collection with Two Chip Extraction Ports
Adjustable Leveling Pads
230 or 460 volt/3-ph Electrics (must specify voltage)
Warranty: Two Year on Parts
Made in Spain
Round
Square
Rectangle
90°
6" (150 mm)
6" x 6" (150 x 150 mm)
10" x 3" (250 x 75 mm)
Non Ferrous Automatic Upcut Saw designed for Aluminum, PVC, Copper, etc.
Length Tolerance
+ or - 0.006" per index
Cutting Speed

3,000 RPM
Motor Rate
7.5 HP
Factory Wired
Specify:
230 3-ph
460 3-ph
Maximum Diameter Blade
20" (500 mm)
Arbor Bore
1.97" (50 mm)
Height from Floor to Vise
38-5/8" (970 mm)
Width
77"
Depth
42"

Height
(Top of Hood) 39"
Shipping Weight
1620 lbs. (735 kg)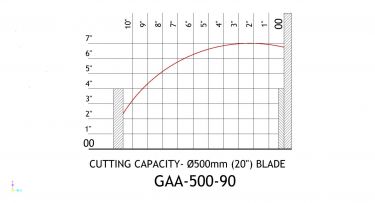 Carbide Blade

Carbide-Tipped Blades
Scotchman offers carbide-tipped saw blades in stock for immediate delivery.

Carbide-Tipped Blade Sharpening
Scotchman offers a fast, high quality blade sharpening service.

10' & 20' Material Supply Track

Proud American Manufacturer
Est. 1967