The SUP-500 is an Upcut Circular Cold Saw designed specifically for cutting non-ferrous material. Featuring a 20" (500mm), 120 tooth carbide blade that is capable of producing round cuts up to 7" in diameter and rectangular cuts up to 11.75" x 5", the SUP-500 NF offers an increased cutting capacity not found in similar Scotchman models.
Standard features of the SUP-500 include an adjustable feed rate, mitering capability of 30 degrees Left and 0 degrees Right, four pneumatic clamps to secure material being cut and integrated debris collection. Standard safety features include dual hand operation and a safety interlock that will prevent the saw from operating if the safety hood is not closed.
The SUP-500 NF is available in 230 volt and 460 volt configurations and is backed by Scotchman Industries' Best-in-the-Business, 3-year warranty.
Precision Miter Upcut Non-ferrous Saw
Safety Hood with Safety Switch that will not Allow Saw to Run with Hood Open
Blade Door with Safety Interlock Switch
Dual Palm Buttons
Adjustable Feed Rate on Saw Head
Two Horizontal Pneumatic Clamps
Two Vertical Pneumatic Clamps
Miter Capability 30° Left, 90° Straight, 0° Right
Capable of Slotting
Moveable Back Fence for Larger Capacity
One Gallon Coolant
Coolant Tank with Mist Lubrication
One 20" (500 mm) Diameter, 120-Tooth Carbide Blade
One Blade Wrench
Air Hose
Chip Collection Drawer in Base and a 4-3/4" Chip Collection Port
Noise Level (DB 68)
Adjustable Leveling Pads
230 or 460 volt/3-ph Electrics (must Specify Voltage)
Warranty: Three Years on Parts
Made in Spain
Round
Square
Rectangle


90 Degree
7" (180 mm)
6" (150 mm)
11-3/4" x 5" (300 x 125 mm)


45 Degree
7" (180 mm)
4-3/4" (120 mm)
5-3/4" x 4-3/4" (145 x 120 mm)
Non-Ferrous Upcut Saw designed for Aluminum, PVC, Copper, etc.
Cutting Speed
3,000 RPM
Motor Rate
5.5 HP
Factory Wired
Specify:
230 3-ph
460 3-ph
Maximum Diameter Blade:
20" (500 mm)
Arbor Bore
1.97" (50 mm)
Width:
47-1/4"
Depth:
43-3/8"
Height:
(Top of Hood) 60-1/4"
Height:
(From Floor to Vise) 38-5/8"
Shipping Weight:
1,069 lbs. (485 kg)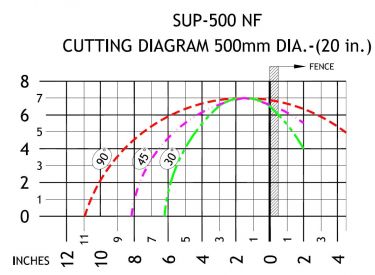 Chip Vacuum - V-460

Ideal for collecting steel, dust, aluminum and plastic shavings.

Standard features include:
27 gallon storage with quick release handle
Air filter shaker turbine
2hp motor
706 cfm air flow through a 4" inlet

RG Angle Master

This upcut saw coupled with the Angle Master creates a semi-automatic programmable saw system that automatically rotates to any cut angle, pushes material into the saw & automatically rotates to the next desired angle. (It gives you a completely finished part.)

Plus, you can store cut lists on its 17" touch screen control.


(Watch Movie)

Carbide Blade

Carbide-Tipped Blades
Scotchman offers carbide-tipped saw blades in stock for immediate delivery.

Carbide-Tipped Blade Sharpening
Scotchman offers a fast, high quality blade sharpening service.

RG Digital Quick Stop

Available in 8' and 12' lengths. This Digital Quick Stop is an entry level programmable sop. It is priced right, yet very durable. Setup is as easy as entering the desired cut length and pressing go!

(Watch Movie)

60" or 120" Material Stop Roller Conveyor Mounted with an Advanced Measuring Quick-Loc System

Designed for quick, easy and accurate length setting. Available left to right or right to left material feed.

Proud American Manufacturer
Est. 1967