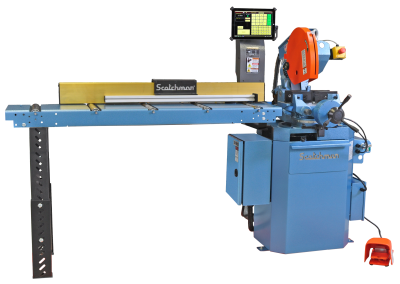 Scotchman Auto Feed System allows you to turn a Scotchman Semi-automatic Cold Saw into a fully automated cutting system. You have the ability to make manual cuts by simply positioning the stop and firing the machine you are using. Or, you can program a complete cut list to automate the process. The System automatically moves your material to position, clamps the material, and cycles the machine which spits out finished pieces.
Intuitive Interface
Touch Screen Control
5-Year Warranty on Drive Belt
Carriage Rides on Linear Bearing System
Planetary Gear Head, near Zero Backlash
Fraction Hot Keys
Switch between Stop Mode and Pusher Mode
Downloading of Cut Lists via Built-in Wireless Networking or through USB Drive
Capable of Displaying Picture of Part Print
Warranty: One Year on Parts
Made in the U.S.A.

Proud American Manufacturer
Est. 1967