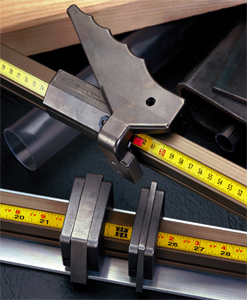 Maximize Your Productivity with Our Fast, Accurate, & Versatile Quick-Loc and Multi-Loc Stop Systems for all your Gauging Applications.
Scotchman Advanced Measuring Systems are American-made from the highest quality stainless steel and provide a guarantee with teeth. The Teeth on the stainless steel stop align themselves to the teeth on the rail, to give you the exact measurement you set.
With the Quick-Loc System, simply squeeze the handle, slide it into position, and release it. Once set into place the stop can't slip! Numerous accessories have been designed to customize this system to your special needs.
The Multi-Loc System allows you to set stops at various lengths to enable the maximization of raw stock without changing the set-up each time. It is as easy as picking up the stainless steel stop and pressing it down to the dimensions you want.
Systems are available in Left-Hand and Right-Hand models and are adaptable to almost any type of metal or woodworking machinery.