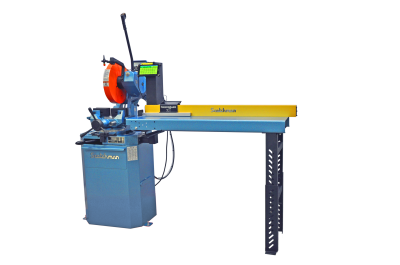 The RG Digital Quick Stop is an entry level programmable stop. It is priced right, yet very durable. Setup is as easy as entering the desired cut length and pressing go. It can be mounted to move left to right OR right to left. Available in 8' and 12' lengths. The RG Digital Quick Stop can be paired with our Cold Saw line.
Quick, Easy Installation and Calibration
Standard screen with full key pad
Fraction keys work as the "go" key
Unlimited Preset Keys
Works the Way You Do: Enter inches, fractions & decimal fractions, or switch to metric mode
Adjustable Stop
Flip Stop ~ can be flipped up, away from table to back feed
Unlimited List Storage
Warranty: One Year
Made in the U.S.A.
| | | |
| --- | --- | --- |
| Sizes: | 8' and 12' Working Lengths | |
| Speed: | 125 ft/min | |
| Accuracy: | Repeatable Accuracy of +/-.006 | |
| Voltage: | 110 VAC | |

Proud American Manufacturer
Est. 1967