Advanced Measuring Systems, also known as AMS, patented a state of the art industrial measuring device called Loc-Stop System. It's unique design replaces all of the old style measuring devices and helps produce greater efficiency, higher productivity, and lower business cost. We are continually designing and developing accessories to adapt the AMS Loc-Stop System to the needs of the industry. We sell largely through our International Dealer Network and also can be found at trade shows nationwide.
Below is a partial list of possible applications for our products:
Cut-Off Saws
Band Saws
Cold Saws
Shears
Press Brakes
Miter Saws
Ironworkers
Punching
A Guarantee, With Teeth!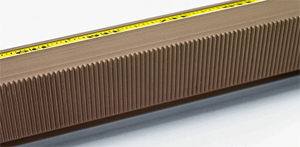 Not only is our Advanced Measuring System adaptable to almost ANY type of metal or woodworking machinery, but it is very easy to set accurate dimensions and has a guarantee with teeth! While the teeth align the stop to the dimension you choose, they also add incredible strength. Once set, the teeth guarantee the stop will never slip or move. The teeth in our stop system allow operators to increase accuracy, reduce set-up time, and eliminate waste.